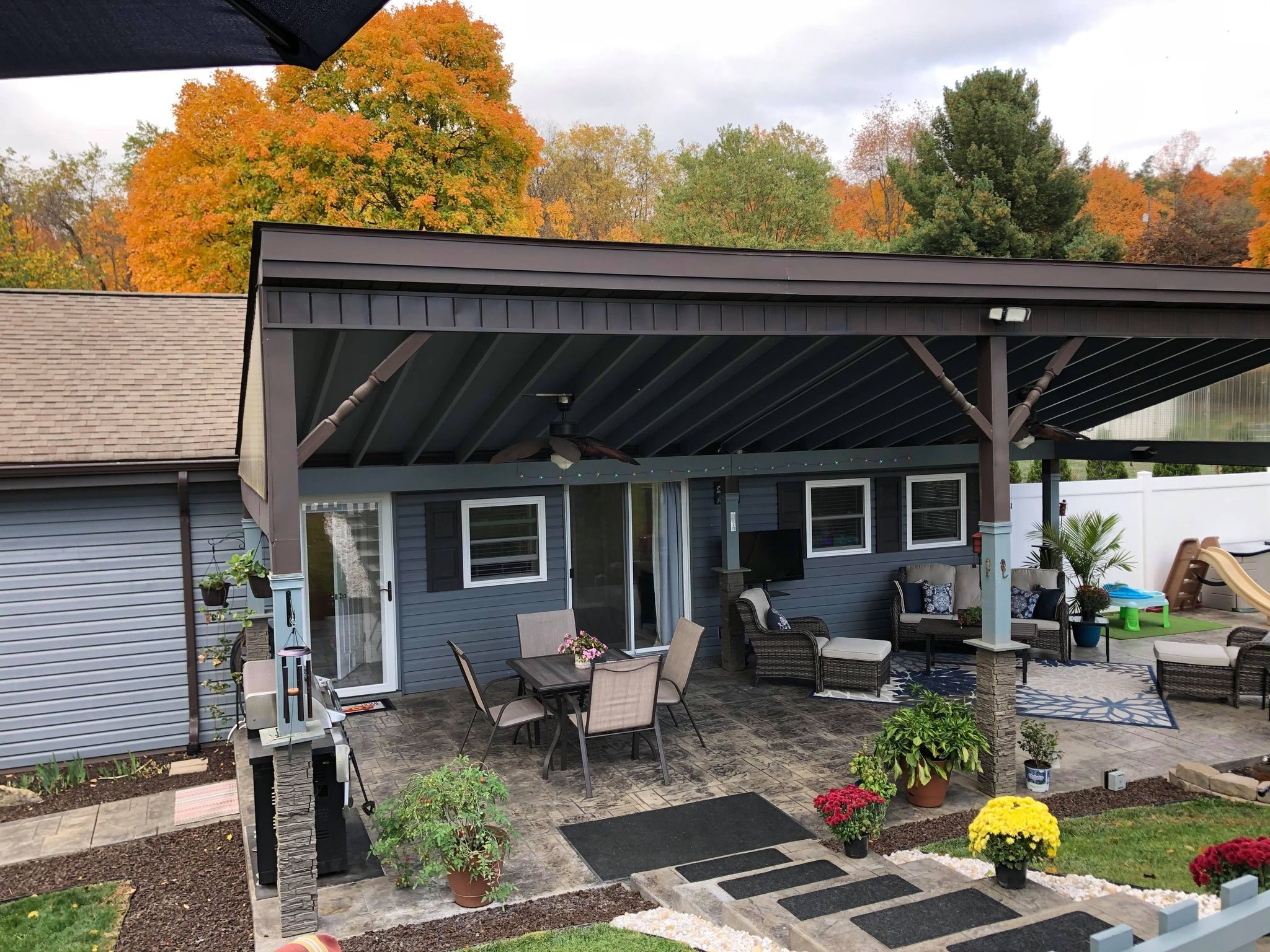 Residential Services
Curb Appeal, Preventative Maintenance, HOA Requirements, Honey-Do List
Wash Doctor provides a broad range of residential and commercial exterior cleaning services. We use industry leading techniques and professional grade equipment. Wash Doctor has the ability to both pressure and soft wash allowing us to clean a multitude of surfaces safety and effectively. We will not only remove the dirt and grime but we eliminate the organic growth (mold, algae, mildew, lichen) and inorganic corrosion (rust).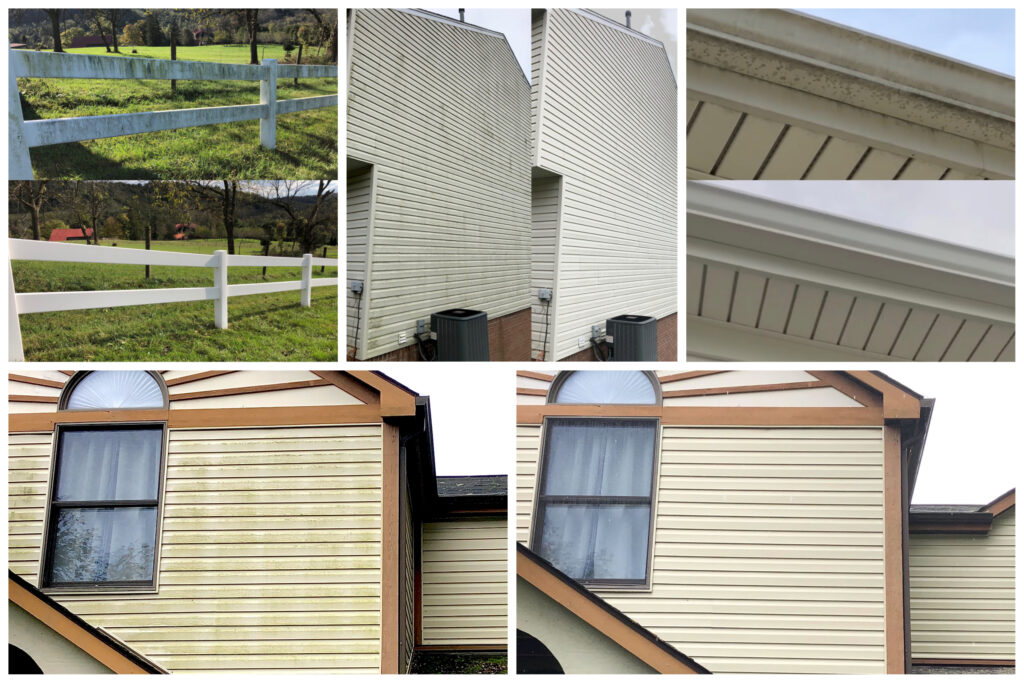 Soft Washing
What is soft washing? Soft washing is a technique where low pressure and special cleaning solutions are combined to clean a surface. The days of spraying your home with high pressure to clean it stopped 20 years ago, no professional service cleans this way anymore. High pressure cleaning forces water under vinyl and wood siding and into cracks and crevices including older windows. It also removes oxidation, paint and stain which ultimately results in streaking or uneven cleaning. Soft washing removes the dirt, grime, surface algae and fungus but it goes a step further, it kills the algae and fungus rooted deep into your homes exterior, keeping your homes exterior clean for a longer period of time. Those dark spots and streaks, black and green that you see on the exterior of your home or roof, that is a living, growing fungus or algae and it needs to be dealt with. Soft washing not only beautifies your home and adds curb appeal, but it sanitizes and can save thousands in preventative maintenance over the span of home ownership.
Siding, Soffit, Facia
Vinyl, Stucco, Stone and Brick, Hardiplank
Chimneys, Dormers and Awnings
Wood and Vinyl Fence
Wood, Vinyl and Composite Decks
Outdoor Furniture and Many Other Outdoor / Exterior Surfaces
Interlocking Stone and Landscaping Retaining Walls
Outbuildings, Gazebos, Pavilions
Graffiti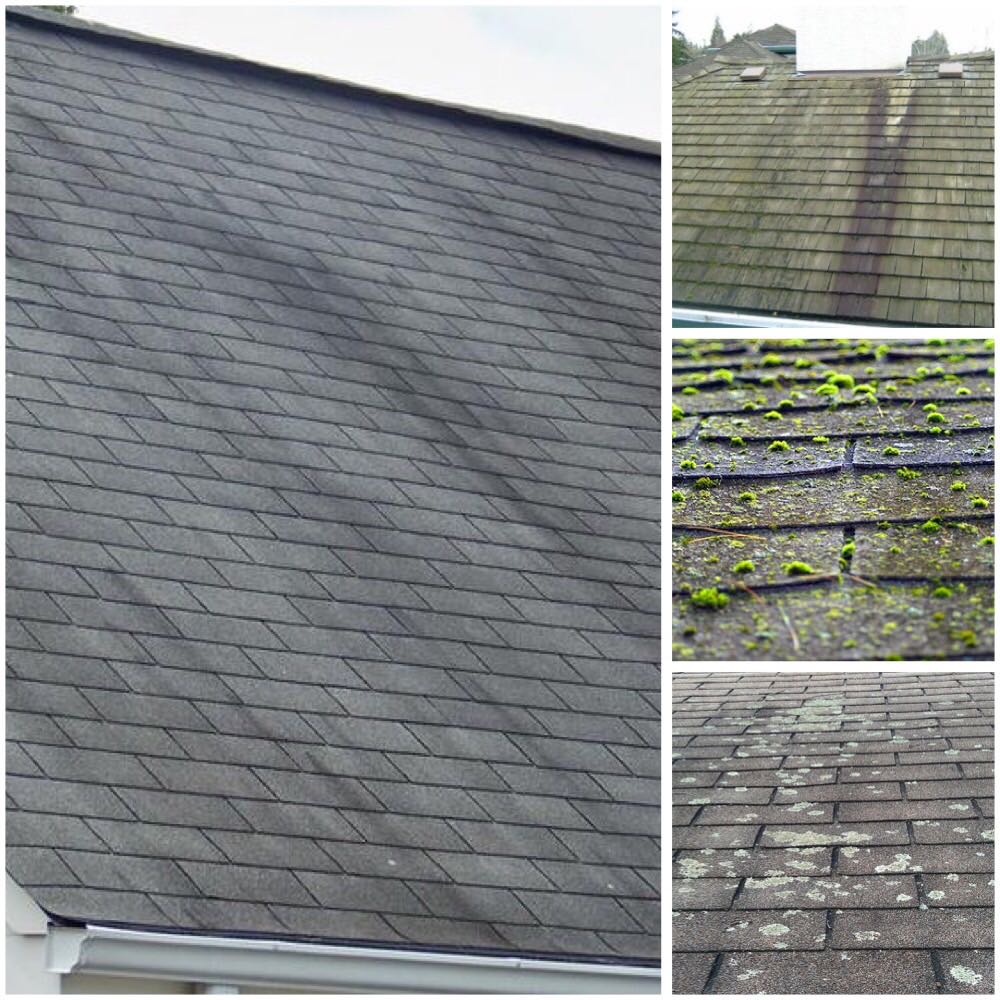 Roof Cleaning
Black, blue and green spots, streaks and stains, visible algae growth, lichens or moss, these are all very common problems for both residential and commercial roofs. These stains and growth do not always mean that you need to replace your roof, in fact the majority of the time you roof only needs to be cleaned. With that said prolonged negligence can cause algae and fungus to do more that just ruin your roofs appearance and your home's curb appeal.
Lichens and moss can root into the shingle damaging the shingles face or cause shingle scars
Algae feeds on the limestone filler that gives shingles their weight, causing the shingles to "cup".
Algae speeds up the process of shingles loosing their granules causing them to overheat.
Algae holds water contributing to shingle failure and roof rot.
The Wash Doctor will clean your roof using an industry standard soft washing technique approved by ARMA (Asphalt Roof Manufacturing Association) and major roofing manufactures such as GAF, Atlas, CertainTeed, Owens Corning and Tamko just to name a few. Do not use a pressure washer to clean your roof, do not use a stiff bristled brush, these methods will damage your roof. Call the Wash Doctor and let us clean your roof in a safe and effective manner that will sanitize, add curb appeal, save thousands in preventative maintenance and extend the life of your roof.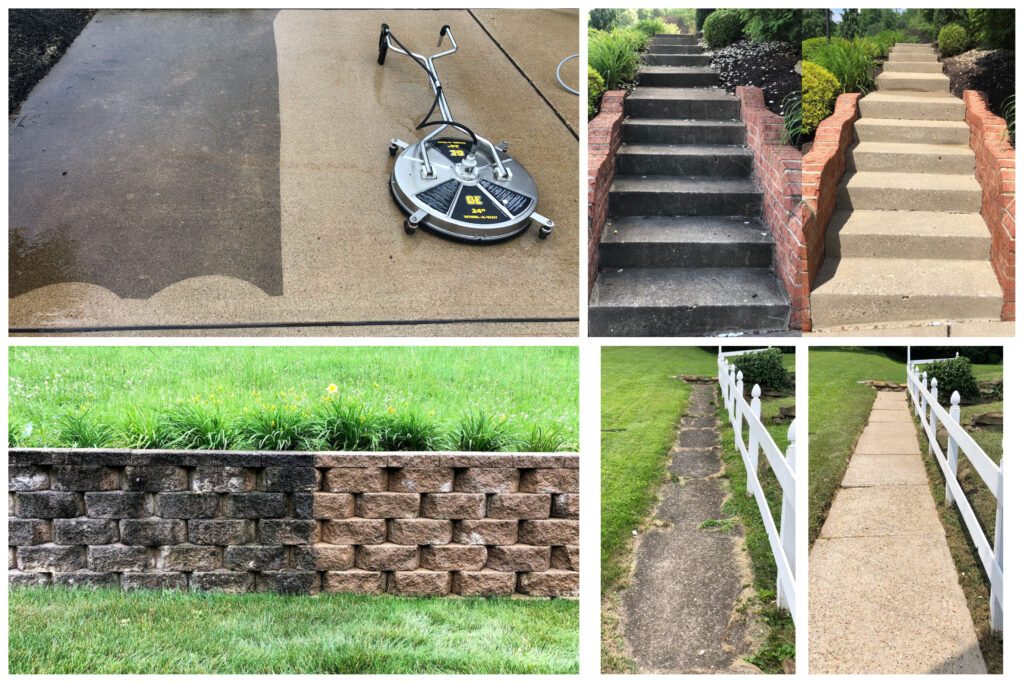 Pressure Washing / Surface Cleaning
For all other outdoor surfaces we utilize pressure washing combined with specialized pressure washing equipment that allows us to regulate the pressure rate dependent on the surfaces that you need cleaned. Using a pressure washer incorrectly can damage concrete, you do not clean concrete with a high pressure wand and a tight tip, the wand has it's place (edging, hard to reach spots, etc.) but the center of your concrete driveway is not one of them. At Wash doctor we use top of the line high pressure (PSI, Pounds Per Square Inch)) and high volume (GPM, Gallon Per minute) pumps. Pressure helps but high volume is what cleans, adds efficiency, removes more dirt, mold, algae, spots and stains, allows the use of better surfactants and larger, more efficient surface cleaners.
Concrete Driveways, Sidewalks, Walkways and Patios
Vinyl Fencing and Decks
Outdoor Furniture (not wood)
Stone Walkways and Patios
Certain Interlocking Block and Brick Dependent On Situation and Type
Graffiti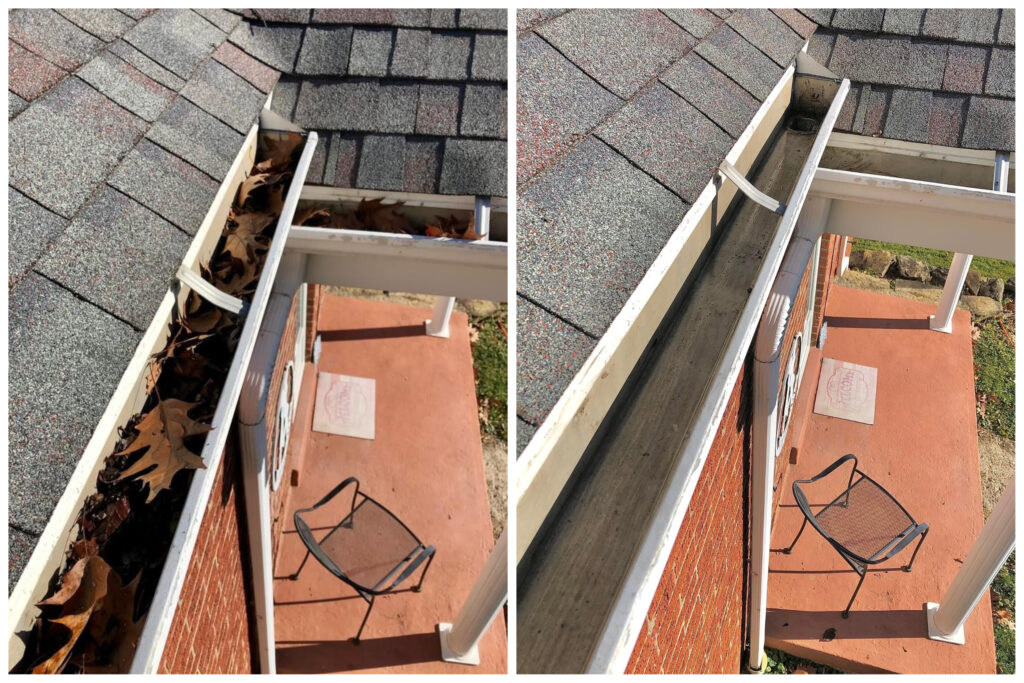 Gutter Cleaning
Cleaning your gutters is one of the most important, yet most overlooked annual maintenance tasks on a home owners to-do list. How many times have you thought about cleaning your gutters but the job is still not done? We all know that we have to clean our gutters, but honestly, who wants to climb up on the ladder, pulling stinky and nasty grime out all day? Clogged gutters and downspouts overflow which can lead to foundation issues, wet basements and rotten fascia boards. Sitting water can became a breeding ground for pests and mosquitos. When you hire the Wash Doctor to clean your gutters, you get the following
Gutter Inspection
100% Of The Gutters Are Hand Cleaned
Downspout Bulb Screens (if installed) Are Removed and Cleaned
Downspouts Are Cleaned and Flushed If Needed
All Debris Is Bagged and Removed From Your Property
If You Home Is Equipped With A Gutter Guard System That Has To Be Removed and Reinstalled, We Can Do That
Trash / Recycle Bin Cleaning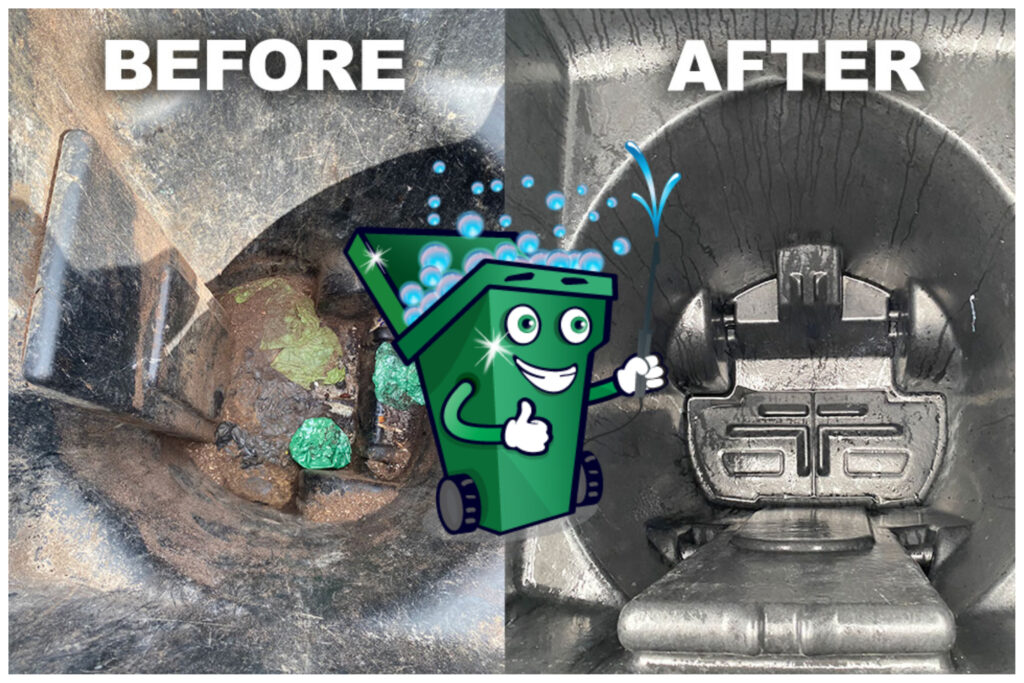 Don't Replace Your Bins – Get Them Cleaned and Sanitized
Several years ago while washing a house, I had a customer ask me if I could clean their trash bins? Between their weekly trash pickup they were stored in the home's garage. As soon as we opened the garage door I could smell them, 2 bins, 1 empty, 1 with a few small clean bags of trash. It was not something that I had done for a customer before but I wheeled them out, removed the trash bags and got to work. The inside and outsides were dirty, with the trash bags removed, they still smelled terribly. They were cleaned, sanitized and left to air dry. Over they years the Wash Doctor has cleaned hundreds of bins as an add on service. Trash bins are expensive, don't replace them, clean them.
Bins Will Be Cleaned Inside and Out
Bins Will Be Sanitized